Kathryn McGovern "Environmental Nostalgia" 02.06 – 07.07.2018
April 11, 2018 3:13 pm
Gallery WM is proud to present 
ENVIRONMENTAL NOSTALGIA
by
KATHRYN MCGOVERN
2 June through 7 July 2018 at Gallery WM
In Gallery WM's upcoming exhibition, Kathryn McGovern's (Brisbane, Qld. Australia) series 'Environmental Nostalgia' explores humanity's relationship with the natural environment. McGovern's drawings of lost and endangered Australian species remind us that things do end, they do die. Extinction is forever. Since European settlement in Australia, extensive clearing of native vegetation has removed, changed or fragmented habitats and hundreds of species have become extinct. Australia has the highest mammal loss of any country on Earth.
Kathryn McGovern's practice focuses on traditional materials used in a manner to convey drawing as a conceptual process – exploring the nature of meaning making – drawing as a form of reverie; the art of making meaningful marks. Her work responds to and represents the passage of time through the layering of materials and meticulous detail. McGovern treats the lace that she integrates in her pieces as a metaphor; as an object with both physical and negative space.
It is also symbolic of colonialism. The man-made and the natural converge, and it is unclear whether nature will fight back and rid itself of the foreign matter, or if the laced netting will claim the animals completely. The works point to memories, highlighting what we have, what we have already lost and what we can regain.
McGovern feels a personal engagement with the natural environment and the ways that elements of nature can be depicted to create structures of preservation or to evoke memories. McGovern plays with metaphor and makes connections with imagery across and through time. She draws on visual imagery with shared patterns, sourced from organic structures and forms both living and dead.
Once an animal disappears from the face of the Earth, it never returns. Human impact is causing irrevocable and distressing changes to the planet. However, the endings are not yet written for the stories of the koala, pygmy possum, numbat and others.
The opening of 'Environmental Nostalgia' will take place on Saturday, June 2nd 2018, between 17:00 – 19:00 hrs at Gallery WM
———————————————————————————————————————–
Kathryn McGovern is an Australian artist living and working in Brisbane, Queensland. She is represented by Traffic Jam Galleries in Sydney, New South Wales and The Art Vault in Mildura, Victoria. She enjoys yearly residencies in the Outback and exploring new landscapes.
"Collecting beetles, lizards and frogs was a favourite pastime in my childhood. I was fascinated by all the details of their life, and how they adapted so perfectly to their environment. As a child I simply enjoyed the pleasure of searching, watching and discovering. I was sensitive about the feelings of animals…I still am today."
Kathryn has won a number of Major Art Awards and been a finalist in numerous National Art Prizes. This is her first Solo International Exhibition.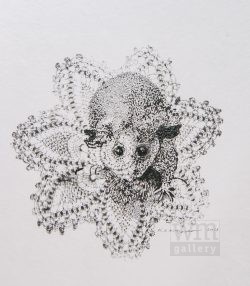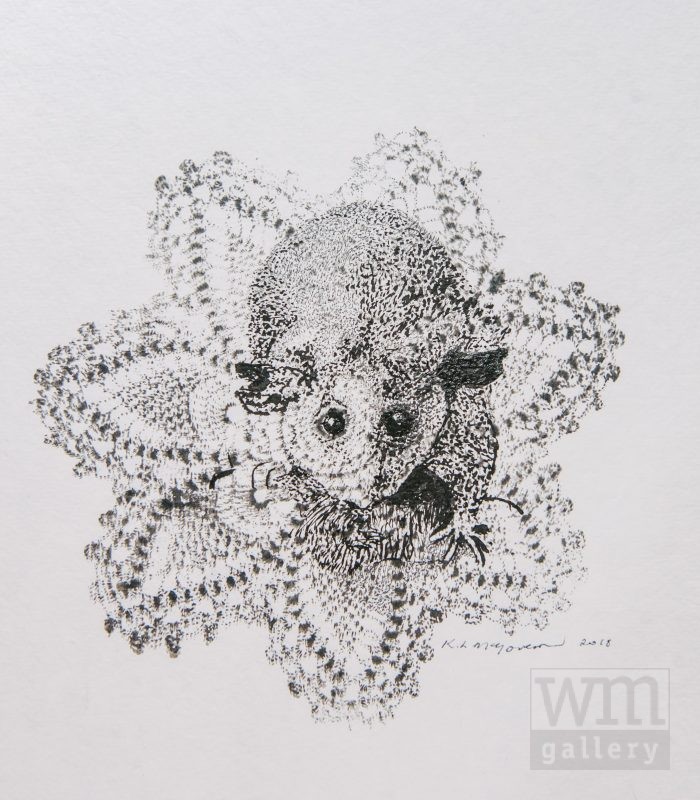 Gallery WM presenteert met trots:
ENVIRONMENTAL NOSTALGIA
van
KATHRYN MCGOVERN
2 juni t/m 7 juli 2018 in Gallery WM


In de aankomende tentoonstelling van Gallery WM onderzoekt Kathryn McGoverns (Brisbane, Qld. Australia) serie 'Environmental Nostalgia' de relatie tussen de mens en zijn natuurlijke omgeving. McGovern's tekeningen van verloren en / of bedreigde Australische diersoorten herinneren ons eraan dat dingen wel degelijk eindigen, ze sterven wel degelijk uit. Uitsterven betekent dan ook voor altijd. Sinds de Europese kolonisering van Australië heeft de gestage en alsmaar uitbreidende verwijdering van de inheemse vegetatie en natuurlijke habitats er toe geleid dat honderden soorten inmiddels zijn uitgestorven. Australië heeft het hoogste verlies van zoogdieren van enig ander land op aarde.

De praktijk van Kathryn McGovern richt zich op traditionele materialen die op een manier worden gebruikt om tekenen als een conceptueel proces over te brengen – de aard van betekenisgeving onderzoekend – tekenen als een vorm van mijmering; de kunst om betekenisvolle stempels achter te laten. Haar werk reageert op en vertegenwoordigt het verstrijken van de tijd door de gelaagdheid van materialen en minutieuze details. McGovern beschouwt het kant dat zij in haar tekeningen integreert als een metafoor; als een object met zowel fysieke als negatieve ruimte.
Het is ook een symbool van het kolonialisme. Het door de mens gemaakte en het natuurlijke komt hier samen, en het is onduidelijk of de natuur zal terugvechten en zich ontdoen van deze vreemde materie, of dat het geregen netwerk de dieren volledig zal opeisen. De werken verwijzen naar herinneringen, benadrukken wat we hebben, wat we al verloren hebben en wat we wellicht kunnen terugwinnen.
McGovern voelt zich persoonlijk betrokken bij de natuurlijke omgeving en de manieren waarop elementen van de natuur kunnen worden afgebeeld om structuren van behoud te creëren of herinneringen op te roepen. McGovern speelt met metaforen en legt verbanden met beelden in tijd en over tijd heen. Ze maakt gebruik van visuele beelden met gedeelde patronen, afkomstig van organische structuren en zowel levende als dode vormen.

Als een dier eenmaal van het aardoppervlak verdwijnt, komt het nooit meer terug. Menselijke impact veroorzaakt onherroepelijke en verontrustende veranderingen in ons planeet. De eindes zijn echter nog niet geschreven voor de verhalen van de koala, pygmee possum, numbat en andere unieke diersoorten.
De opening van 'Environmental Nostalgia' vindt plaats op zaterdag 2 mei 2018, tussen 17:00 en 19:00 uur in Galerie WM

————————————————– ————————————————–

Kathryn McGovern is een Australische kunstenaar die woont en werkt in Brisbane, Queensland. Ze wordt vertegenwoordigd door Traffic Jam Galleries in Sydney, New South Wales en The Art Vault in Mildura, Victoria. Ze geniet van jaarlijkse residenties in de Outback en het verkennen van nieuwe landschappen.
"Het verzamelen van kevers, hagedissen en kikkers was een favoriet tijdverdrijf in mijn jeugd. Ik was gefascineerd door alle details van hun leven en hoe ze zich zo perfect aanpasten aan hun omgeving. Als kind heb ik gewoon genoten van het plezier van zoeken, kijken en ontdekken. Ik was gevoelig voor de gevoelens van dieren … ik ben het nog steeds vandaag. '
Kathryn heeft een aantal Major Art Awards gewonnen en was finalist in tal van National Art Prizes. Dit is haar eerste internationale solo-expositie.
Kathryn McGovern CV:
McGovern_Kathryn_CV 2018 Current