Gideon Smit "Eye Spy" 1.11 – 24.11.2001
November 1, 2001 10:22 pm






Equipped with an antique mini-format Minox camera, Gideon Smit (Wales 1968), embarked on his year long photographic essay in the summer of 2000.

Based in a small rented room in the suburbs of Amsterdam, Smit intermingles a daily routine of commuting, work and bars with his travels to other countries, in search of new inputs. He records himself, as well as the people, places and situations he encouters along the way, and what emerges is a rich tapestry of impressions.

The self portraits play a central role; Smit is a guide who is bewilderd by a world filled with contradictions and diversity; he is looking for his own place and role in it.
Opening speech by Jaap Bijsterbosch:
Ladies and gentlemen,
Today I want to say something about the man and the photographer Gideon Smit, something about his camera, something about his photography and something about his exhibition. After the words we can drink and celebrate this happy occasion.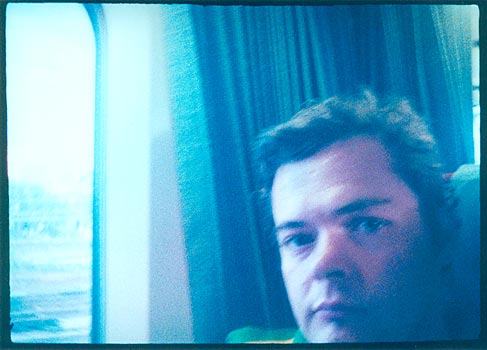 Gideon Smit – 11 September 2001- from the series 'Eye Spy'
Something about Gideon Smit.
He's a man with a mission.
He travels around, armed with his small camera.
Half of his face is sometimes hidden in the shadow of his camera.
He looks at the world around him like a stalker playing hide- and seek with his public.
He may be at his small room far away in northern Amsterdam, or working in the fridge, or working in his studio.
He is at the beach of Llandudno, Wales, all on his own, looking like Francis Bacon or Dylan Thomas.
He's at the ferry, near the white cliffs of Dover, England , he's in the back of a London cab, he's celebrating New Years Eve in an Irish Pub.
He's watching himself in a yellow Amsterdam toilet.
He's a good photographer and a fine craftsman, he makes his own colorprints.
What's driving him?
We don't know, we can only guess.
One thing is for sure. He's always taking pictures, sometimes sneaky, sometimes in the open, and often with his own face playing the leading part.
And today he's looking at us, his pictures as a souvenir from his trips around Europe. His pictures as a souvenir from his trips into his own character.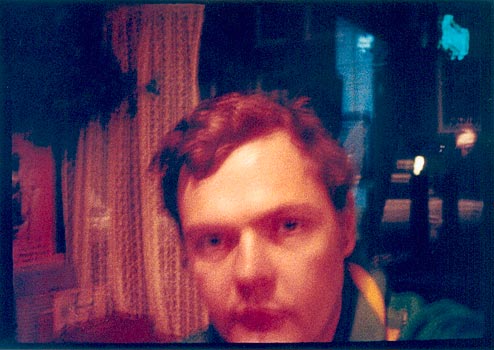 Gideon Smit – 11 September 2001- from the series 'Eye Spy'
Something about the Minox-camera.
In 1938 Herr Doctor Walter Zap invented the minox. His aim was to construct a still- camera with no bigger size than a cigar. No wonder that untill 1943 about 17.000 of those small machines were produced. This was the ideal camera for spying. You all may know this was a favourite hobby of many people in those days.
The minox is not only very small but also easy to handle. It's not the size, but how to use it.
The negatives, this minox is producing, measure 8 X 11 mm. That's about the size of a quarter of a stamp. And I don't think it's a coincidence that Gideon found this camera in the heritage of his father. This camera was invented especially for him, Gideon. The exhibition today proves it.
Ladies and gentlemen, if you would have expected a glamourous photoshow, you may be dissappointed. Today we see grainy, unsharp, vague, mysterious images. Which of course first of all is a result of the enlargementprocess, but which also has everything to do with the way Gideon is looking at the world.

Gideon Smit – 11 September 2001- from the series 'Eye Spy'
Something about the photography of Gideon.
For Gideon, ladies and gentlemen, photography is sheer magic. It is a process in which timeless images may occur. It is a strange, uncertain process, one presses a button, one records a situation, a face in the crowd, or in the case of Gideon ones own face. It is also a process full of thrilling excitement, it's never certain what comes out of it.
One day there were negatives & contactsheets of a whole year working and then Gideon started to collect prints. On a certain day he stuck about 500 prints to the wall in his studio, and the result puzzled him.
Imagine, 500 prints from a year's work, and at most of the pictures you see your own face.
One thing he knew for sure, he wanted to depict himself and his year in an honest way. Not only sexy, seductive images, but also reflections of darker sides of his character.
A man has many faces, and today Gideon is showing quite a lot of them.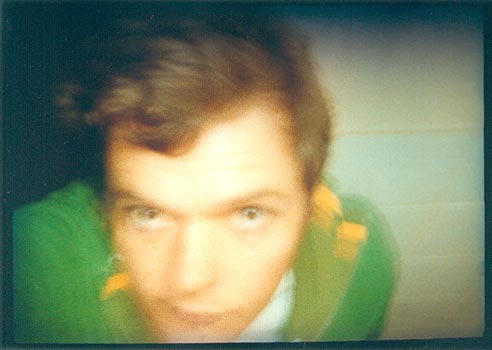 Gideon Smit – Paris, October 2001- from the series 'Eye Spy'
Something about the exhibition eye spy.
It's a strange exhibition full of unpolished, raw, grainy pictures. Sometimes it is pure magical.
Of course that's also a result using small minoxnegatives. But it's a photographic exhibition. Gideon is using photographic means to express himself. Movement, over- and underexposure, wrong focussing. Gideon is using disadvantages of the minox as an advantage. He makes his own, very personal story. He is like an actor who plays his own role in the theatre we call life with the utmost conviction. He's got himself under his skin.
Gideon, to me this exhibition is a quest of truth and personal beauty. Truth about yourself in a strange peculiar way. Personal beauty also, not as a popstar, but beauty as an individual in search for the way you are and the way you look at and into the world.
When an artist like you can archieve such a result I think we can speak of a succesfull attempt to make something clear about himself, that's to say yourself.
But it's not only that.
We, the public today can not only experience something about you as an artist and a human being, but we can also learn something about ourselves and our motives in life by watching your photo's.
And that is your greatest archievement, I think.
So let's drink to that, now the exhibition is officially open.
Jaap Bijsterbosch,
November 3rd 2001, Amsterdam NL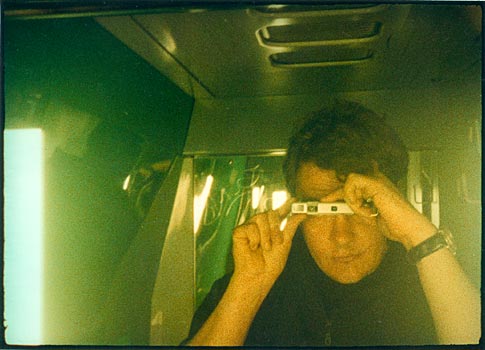 Gideon Smit – April 2001- from the series 'Eye Spy'


Opleiding en Exposities:
1990 University of St Andrews, Scotland (M.A. Hons)
1991 Naar Nederland verhuisd
1996 Toegelaten naar Rietveld Academie, afdeling fotografie
1997 "Body Message" groepsexpositie, Start Galerie, Amersfoort
1998 "Vacuum" 3e jaar Rietveld Fotografie – groepsexpositie
1998 Fotogalerie 2 ½ x 2 ½, Amsterdam
1999 Foto werk voor presentatie boek over Lloyd Hotel ateliers
1999 Afgestudeerd Rietveld Academie
2000 "Wales" solo expositie, Cultureel centrum de Badcuyp, Amsterdam
2000 "Lightness Falls" solo expositie, Gallery WM, Amsterdam
2001 "20 x 20 Inches of Holland" groepsexpositie, Gallery WM, Amsterdam
2001 "As Tel Is Quel" groepsexpositie, Galerie le Cheval de Sable, Paris, France
Tel: 06-11397203; E-mail: gidionic@wanadoo.nl
Tags: Gideon Smit