Tomek Sikora "Odd Match & The Promised Land" 30.08 – 5.10.2003
August 30, 2003 9:28 pm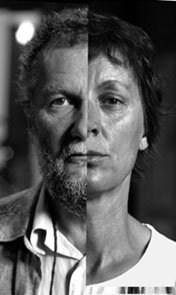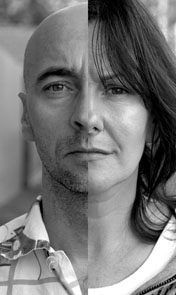 Odd Match
It is a series of portraits showing the way in which couples and their looks correspond to each other.The juxtaposition of the two halves of their faces creates a compromise, like in a relationship. As a result, a surprising third portrait is being created, an entirely new third face.
The heroes of these portraits were amazed to discover many mutual features in their faces. They analysed them profoundly and were able to clarify certain aspects of their relationship.
The Promised Land
It is a story about Australian landscapes, about open space and about monuments constructed by man in the form of houses, huts, electricity posts, railways.
These monuments are fragile and perishable. They prove once again our arrogance towards the power of nature.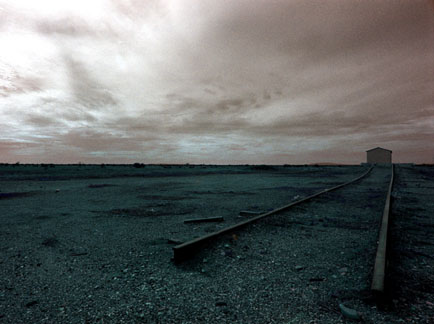 Tomek Sikora CV
1948 Born in Warsaw, Poland.
1970-71 Does his work experience at Kodak laboratory in Paris.
1975-82 Produces film and theatre posters, book illustrations and record covers with major Polish graphic designers.
1980 Participates in Biennale de Jeunesse in Paris with two projects.
1982 Migrates to Australia and conducts workshops in photography at the Victorian College
of the Arts.
1983 Establishes an advertising photography studio and works for major advertising
agencies in Australia.
1991&1992 Awarded in Australia as the best advertising photographer of the year.
Continues his activity in the area of art photography.
Publishes limited editions of author's books and calenders.
1986 Travels and works extensively outside Australia: in New Zealand, Hong Kong, USA, Belgium, Singapore and Malaysia.
Creates surreal illustrations for various children's books.
1993 Joins the Image Bank.
Works for advertising agencies in Poland.
Since 1996 Divides his life between Poland and Australia.
Works on his new ongoing project "Transparency of Things" which has already been exhibited in three countries.
Major Exhibitions Tomek Sikora
1970 "Ludzie", solo show, Palac Szustra Warsaw, Poland
1972 "Sikora, fotografia", solo show, MPIK Gallery Warsaw
1976 "Propozycje", solo show, ZPAF Warsaw
1979 "Album" (with Marcin Mroszczak), Author's Gallery Amsterdam, Netherlands
1979 "Polish Photography 1839-1979",
International Center of Photography New York, USA
1980 "Alice in Wonderland", Wielka 19 Gallery Poznan, Poland
1980 "Fotografia-Sztuka Mitu, ZPAF Gallery Wroclaw, Poland
1980 "XI Biennale de Paris", Musee d'Art Moderne" Paris, France
1980 "Polish Photography 1839-1979", White Chapel Gallery London, England
1980 "Fotografia Polska 1839-1979", Zacheta gallery Warsaw
1981 "Photographie Polonaise 1900-1981″, Centre Pompidou Paris
1982 'Touching Time", solo show, Ministry for the Arts Melbourne, Australia
1983 "Black&White in Colour", solo show, Seal Club Gallery Melbourne
1984 "T. Sikora & C. La Roque", Graphic illusion Gallery Melbourne
1988 "Intrenational Art Fair" Sydney, Australia
1989 "Behind the Light", solo show, Girgis & Klym Gallery Melbourne
1994 Paas Gallery New York
1996 "Zachowac Twarz", solo show, ZPAF Gallery Warsaw
1997 "Tomek Sikora – Fotografia Autorska", solo show,
ZPAF Gallery Cracow, Poland
1997 "Tomek Sikora", solo show, Kodak Gallery Warsaw
1997 "Biennale Fotografia", Fundacja Turlleja Cracow
1998 "Nie Do Pary, Nie Do Wiary", solo show, Mala Galeria ZPAF Warsaw
1999 "Odd Couples", solo show, The Jackman Gallery Melbourne
1999 "Transparency of Things", solo show, Centre for Contemporary Art Warsaw
2000 "Images", solo show, The Jackman Gallery Melbourne
2000 "Transparency of Things", solo show, Eastwick Gallery Chicago, USA
2000 "My Australian Friends", solo show, Miedzy Nami Gallery Warsaw
2000 "Cyprus", one man show, Biblioteka Gallery Warsaw
2000 200″People From My Neighbourhood", solo show,
ZPAF Gallery Warsaw
2001 "Spiacy", solo show, Swiatynia Diany Gallery Warsaw
2001 "Facial Collection", solo show, Miedzy Nami Gallery Warsaw
2002 "Tomek Sikora – photography", solo show, Jackman Gallery Melbourne
2002 "Second Skin", solo show, Miedzy Nami Gallery Warsaw
2002 "Minal Rok", solo show, Karowa Gallery Warsaw
2002 "Transparency of Things", solo show, Instytut Polski Stockholm, Sweden
2003 "Symbiosis", solo show, Jackman Gallery Melbourne
2003 "Tomek Sikora", solo show, Instytut Polski Sofia, Bulgaria