Sherman Ong "HanoiHaiku" 2.09 – 1.10.2006
September 2, 2006 11:33 pm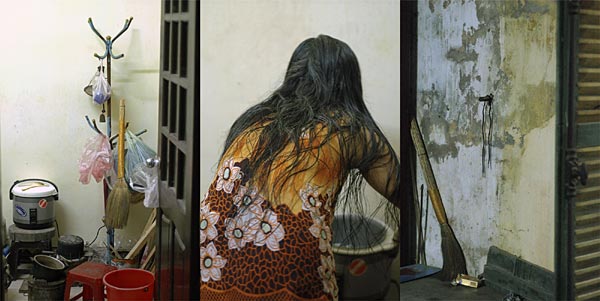 Sherman Ong: HanoiHaiku – Woman, 2005
HanoiHaiku (2005)
This series of photos are made in Hanoi, Vietnam during my residency under the Goethe Institut Art ConneXions project. Vietnam is about change and contradiction. As a city, Hanoi is undergoing rapid urban development and social transformation. With 70% of the population below the age of 30, the country seems to be invigorated with the fervour of youth and consumerism, hungry to plug into the latest global trends and fancies. I am interested in the idea of transition and its relationship with the memory of the past, the changing of values, the passing of tradition and the aspirations of a different reality. I am keen to explore the idea of whether an ideal state or end point exist within the progression of societies, or whether change is a constant and a cyclical phenomenon of the human condition.
This series is presented like a visual Haiku. Intentionally left untitled, the juxtaposition of images produces their own narratives, temporal connections, and is open to many interpretations infused with the personal experiences of individual viewers. Similar to the Japanese Haiku, they are observations in its purest form, distilled into a simple gesture, a moment of reflection, a point in a continuum, touching on the beauty of imperfection, in delicate, quiet, nuanced moments.
Sherman Ong
De tentoonstelling zal te bezichtigen zijn vanaf 02.09 t/m 01.10.2006 in de Gallery WM, Elandsgracht 35, Amsterdam. De opening vindt plaats op zaterdag 02s september van 17.00 tot 19.00 uur.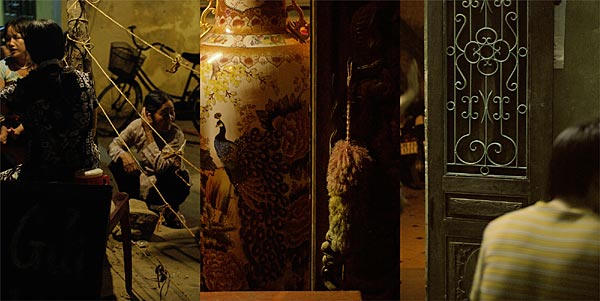 Sherman Ong: HanoiHaiku – Peacock, 2005
Artist statement:I have always been interested in the human condition – living, dying, loving, praying, forgetting and longing – and how we organize and regulate our lives and our environment.

As a photographer, I am interested in exploring the intersection between Nature and Human Nature, between the landscape and the body, offering an alternative view point to the banal while eliciting the subtle beauty of everyday life. 

In my encounters with different peoples and cultures, I realize that each of them have their own survival mechanisms of coping, harnessing or controlling Nature in order to build a stable social environment where they can thrive. The idea of coping, harnessing or controlling Nature, and how it intersects with Human Nature in our quest to regulate our lives – in particular, the social/private spaces in a built urban environment – has always been my interest and a recurring theme in my work.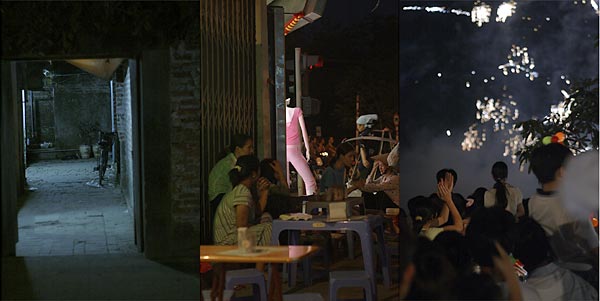 Sherman Ong: 

HanoiHaiku – Manequin, 2005

Artist Biography

SHERMAN ONG
born in MALAYSIA, based in SINGAPORE.

Sherman is a photographer and award-winning filmmaker. Currently, his photographs are on a travelling group exhibition to Singapore, Melbourne, Jakarta, Hanoi, Stuttgart and Berlin under the Goethe Institut ArtConneXions (www.goethe.de/artconnexions). His film works straddle both fiction and documentary, and have been exhibited in Europe, US, Brazil and Asia. His films have won awards in Hong Kong, Greece, Italy, Indonesia and Malaysia. He is an alumni of the 1st Berlinale Talent Campus 2003 and has premiered works at the Rotterdam International Film Festival, Int'l Documentary Festival Amsterdam, Institute of Contemporary Arts London, International Electronic Art Festival VideoBrasil and the Yokohama Art Triennial, Japan. In 2004, he served as a jury member at the La Cittadella del Corto International Short Film Festival, Italy. He is an Associate Artist of the Substation, conducts filmmaking workshops, and works as a photographer, and director for tv, commercials and documentary projects.

For more information, please see: www.shermanong.com


EXHIBITONS:
GROUP:
Another Asia, Int'l Noorderlicht Photo Festival, Leeuwarden Holland, 9.09-29.10 2006
Landscape & Architecture, Art Salon, Kuala Lumpur, Malaysia, May 2006
18 artists discover a region, Art ConneXions, Photo-Art Project by Goethe Institut/IFA
Space 217, Singapore, 18 Aug – 31 Aug 2005
RMIT Melbourne, Australia, 24 Nov 2005 – 26 Jan 2006
National Museum Jakarta, Indonesia, 7 March – 28 March 2006
Vietnam Fine Arts Museum, Hanoi Vietnam, 24 April – 15 May 2006
IFA Gallery Stuttgart, Germany, June 2006
IFA Gallery Berlin, Germany, Sept 2006
Art ConneXions-Finnisage, Goethe Institut/IFA, Space 217, Singapore Nov 2004
Month of Photo, Singapore Arts Festival, Alliance Francaise, Singapore June 2004
Spirituality in Modern Singapore, Goethe Institut, Singapore April 2004
Towards the Month of Photography 2004, Alliance Francaise, Singapore June 2003
SOLO:
HanoiHaiku – WM Gallery, Amsterdam, Netherlands, Sept 2006
Time-Image in the Peranakan House, Central District Arts Festival, Singapore 2001

Tags: Sherman Ong