Wanda Michalak "(5 years later) MEN (are still) ABOUT 5.02 – 6.03.2005
February 5, 2005 6:28 pm

5 jaar geleden heeft Wanda Michalak de Gallerie geopend met haar eigen expositie "Men About". 5 jaar later zijn de Men nog steeds About.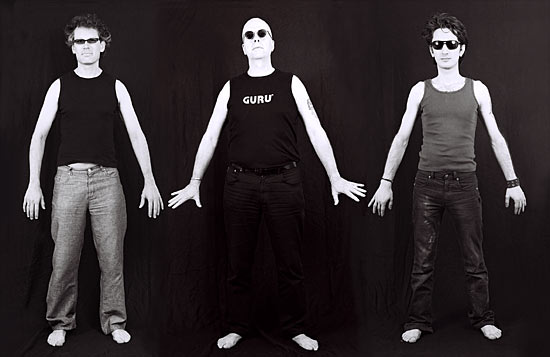 (5 years later the) MEN (are still) ABOUT fot. Wanda Michalak, 2005
Five years ago Wanda Michalak has opened the Gallery WM with her own work "Men About".
"5 years later the Men are still About."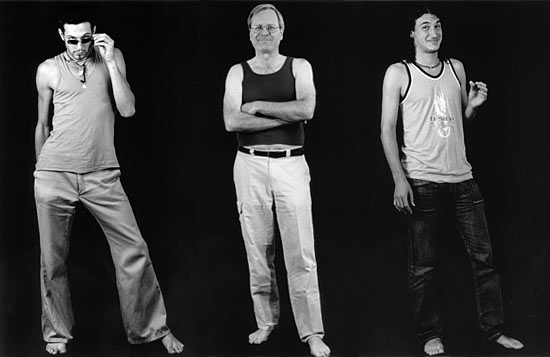 (5 years later the) MEN (are still) ABOUT fot. Wanda Michalak, 2005
Gallery WM february 5th 2005.
It's party-time! Men are still about, the gallery is still about, and most important of all, Wanda is still about. With her strong and vivid personality, her clear opinions, her infectious laugh, which all of photographic Amsterdam will know by now. But the major thing is: Her pictures are still about.
Today we see no hidden trees, no self-portraits in some faraway resort somewhere in the world. No, today it's time for Wanda's favourite subject in life and photography: Men.
Taking these pictures must have been an operation with Polish military precision. These men on the walls of the gallery really look like soldiers. They wear the same battledress; they're barefoot, clothed in long trousers and a singlet. Behind their sunglasses they seem to be invaders from another planet. But at this point the association with warriors comes to an end. Compared to each other the men look very vulnerable, almost naked.
In the studio Wanda asked her men to stand in front of her camera and behave as they were going to embrace somebody. Dressed in their casual outfit they posed. And look, they all perform in a different way. Most of them look a bit shy.
The thing that strikes me most is the way they're holding their arms. This is not an attempt to embrace the viewer! This is a reaction of defence. Something like: Keep Distance!
Is this the way my gender generally behaves? It sure looks like it.
Wanda's pictures reveal a clear paradox. It is the contradiction between uniformity and individuality. At one side men are shown as a strange but uniform species of mankind. There is much resemblance in these 21 characters today. Look for instance at the small pictures. See how Wanda's men look uneasy when they are asked to relax and to be at ease.
In a way they all look members of the same family.
At the other hand: Because of the way Wanda installed her men today in the gallery we can see 21 sheer individuals with their private personalities.
Some men look like proud lovers, some are looking at us as if they are ready to conquer the adventurous world. Other men seem to be utterly surprised: Who am I that I've got the honour of being in front of the famous Michalak Camera.
All men, old or young wear traces of the boys they once were. But they're real men of 2005. No machos. I wonder if Wanda would bear 21 machos in her gallery, which is, as you all may know part of her house and home as well.
In photography people are formed by light that falls upon them. Wanda chose to use a very simple form of lightning. The background contains no light at all. It is black. This results into a clear distinction of the various identities which are attached to the walls of WMGallery. Passport pictures should be taken in this way.
The exhibition today is called Men are Still About. Five years ago at the beginning of the gallery Wanda's exhibition was called Men about. At that occasion Wanda depicted most men in the nude. Now all Wanda's men are wearing clothes. But in a way these men are even more naked than as they would be in the nude. They look very innocent. They have dropped their masks.
It shows the real beauty of my gender. Thank god this beauty is not the beauty of the sport school or the athletic club. There's still hope for us men, especially the non sporting types.
A photographic portrait is a statement. Today Wanda is telling us a lot about men. The pictures as they hang here are looking very natural, logic in a way. That's a quality of good photography, of Wanda's photography today: pictures taken and shown in a way that we can take their depicted reality for granted. The way the individual pictures are attached to the wall today turns them in fact into one large photograph of 21 men.
Wanda, your show deserves a big compliment. Another compliment you deserve for the fact that the gallery has offered so many people to show their photographs during the last five years. And many people have had the opportunity to go and watch so many various examples of photography. That's the good thing about this place; one is often surprised by the photo's that are shown. When I asked you what surprised you most during the last five years in your career as a gallery owner, you answered: That it still exists.
Of course I have to mention Paul for his hard and patient work. Yes, ladies and gentlemen to run a gallery is hard work in the first place. And I can tell you, he's been working hard for it. He deserves our deepest respect for that. By the way, when is that exposition of gas stations coming up?
I have to mention Sebastiaan. When mammy is away on one of her many trips, he is a brilliant deputy. Many shows were his idea and organization.
And let me tell you about the portrait book of Pete of all the photographers that exposed.
And the website, designed by Martha. She's good you know and may need some new costumers.
And I tell you about all the people that helped and whom I do not mention all, because they're with to many!
Running a photo gallery is a question of love for photography in the first place. And that love deserves our deepest respect. So when we cheer in a few seconds time, let that be the main reason for our applause. Up to another five years!
Jaap Bijsterbosch.
De expositie is te zien van 5 februari t/m 6 maart 2005 in fotogalerie WM, Elandsgracht 35 te Amsterdam. De opening zal plaatsvinden op 5 februari van 17.00 tot 19.00 uur. U bent van harte welkom.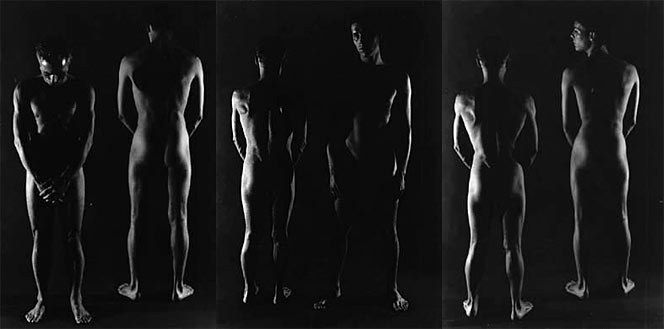 MEN ABOUT fot. Wanda Michalak, 2000
MEN ABOUT (Gallery WM opening, 2000)
BODY ART. It is a term that already has gained some tradition in art and a phenomenon that many artists are still interested in. Art of performance*, video, experimental film – all these areas are particularily filled with realisations concerning human body. Photography is no exception here. There are many artists that went beyond classic understanding of nude photography long ago. They went further on creating photographic stagings with their distinct scenarios, composition, theoretical and philosophical assumptions. The stagings in which human body plays prominent role and is considered to be a basic element upon which a content and meaning of individual photographic series are being built.
This is also the case of the series of Wanda Michalak called "Men About". Dozen or so photographs of different sizes present naked men not only for the sake of the beauty of their young bare bodies. They are submitted to certain compositional interventions in order to create some iconic structures – kind of tableaux vivantes in which water, soap or symbolic objects like woodden wheel or metal sword are being used. But most of them are just posed nudes with dominating role of light which underscores materiality and physicality of human body. It applies equally to the figures standing still and to those photographed while making expressive and violent gestures. The questions which perhaps are being asked by the artist may refer to the way in which we perceive these nudes – as a peculiar manifestation of the human beauty that lasts forever in our consciousness or as an attractive staging measure achieving by skillful use of chiaroscuro and perfection of the artist's craft.A lack of unequivocal answer to this questions causes that the photographic works of Wanda Michalak although being apparently easy to perceive, do possess some widened margin of interpretation, which further strenghtens their impact.
Marek Grygiel