"Dutch' Exposure" – People as seen by Dutch J. den Hollander 21.04 – 19.05.2018
March 1, 2018 10:58 pm
From April 21st through May 19th 2018, Gallery WM is proud to present:
"Dutch Exposure" – People as Seen by Dutch J. den Hollander.
Gedurende zijn indrukwekkende 50-jarige carrière als fotograaf en filmer, heeft Dutch altijd oog gehad voor het fraai fotogenieke, het pijnlijk humoristische en het breekbaar aantrekkelijke. Zijn werk omvat onder meer straatfotografie, portretten, voyeurisme, en wat hij 'sfeertjes' noemt; die kleine intieme momenten die er uitspringen als juweeltjes voor het getrainde oog van de betrokken fotograaf.
Vanaf 21 april, zijn 75ste verjaardag en zijn 50ste jaar als beroepsfotograaf, exposeert Dutch een 100-tal foto's uit zijn omvangrijke archief.
Als aanvulling op de expositie heeft hij het tijdschrift DUTCH' samengesteld; Een 28 pagina's tellend relaas over zijn kennismaking met de fotografie en zijn verdere ontwikkeling als fotograaf en persoon. De teksten in zijn tijdschrift hebben voor een deel betrekking op foto's van de expositie, terwijl het beeldmateriaal in DUTCH' soms weer een andere kijk op onderwerpen van de expositie biedt.
DUTCH' EXPOSURE is te zien van 21 april t/m 19 mei 2018 in Gallery WM, Elandsgracht 35, 1016 TN Amsterdam.
Openingstijden: woensdag t/m zaterdag van 13:00-18:00 uur.
De feestelijke opening is op zaterdag 21 april van 17:00-19:00 uur. Dutch J den Hollander zal uiteraard aanwezig zijn op de opening en het feest.
******************
Throughout his impressive 50-year career in photography and film, Dutch J. den Hollander has had an eye for the extremely photogenic, the painfully humorous and the beautifully fragile. His works comprise Street Photography, Portraits, Voyeurism and what he calls 'Sfeertjes'; those little atmospheric moments that jump out like gems to the trained eye and the trigger-happy photographer.
On the eve of his 75th birthday, and his 50th year of working with imagery, on the 21st of April, Dutch will present a small selection, some 100 pictures, of the immense archives of his images.
As part and parcel of the exhibition, Dutch J den Hollander has put together the magazine DUTCH'; a 28-page commentary and narrative about how Dutch discovered photography, and his further development as a photographer and as a person. The texts in his magazine deal, to some extent, with the photographs exposed in the exhibition, whereas the imagery shown in the DUTCH' at times gives the viewer a different perspective on the images within the confines of the exhibition.
The opening will  be held on Saturday, 21st of April at 17:00-19:00 hrs. Dutch J den Hollander will be present at the opening and the party! 
Media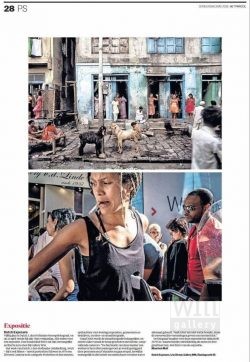 Expositie "Dutch Exposure"
Vijftig jaar is Dutch J. den Hollander beroepsfotograaf en op 21 april vierde hij zijn 75ste verjaardag. Alle reden voor een expositie. een honderdtal foto's uit zijn omvangrijke archief is nu te zien bij Gallery WM.
Het werk van Dutch J. den Hollander (Middelburg, 1943) – hij is ook filmer – omvat portretten (hij won in 1974 een Zilveren Camera in de categorie Portretten in het nieuws), opdrachten voor woningcorporaties, gemeenten en bedrijven, en sfeer- en straatfotografie.
Vanaf 2005 wordt de straatfotografie belangrijker, en steeds vaker vanuit de heup geschoten met kleine, onopvallende camera's. "De fascinatie van deze manier van werken is het rollercoastergevoel: je wordt getriggerd door personen en/of situaties en gaat eropaf, terwijl je onmogelijk in die luttele seconden kunt overzien wat er allemaal gebeurt. Vaak is het net niet wat je hoopte, maar de onverwachte verrassingen geven een enorme kick".
De fotograaf maakte voor deze expositie he tijdschrift DUTCH, waarin hij zijn ontwikkeling als mens en fotograaf laat zien. Met foto's van de expositie.
Maarten Mol (in Het Parool dd donderdag 3 mei, 2018)
Walter van Teefelen in "if then is now" 31 mes 2018:
Dutch den Hollander, photography, street photography