Edward Silhol "New World Heroes" 18.04 – 23.55.2009
April 18, 2009 2:42 pm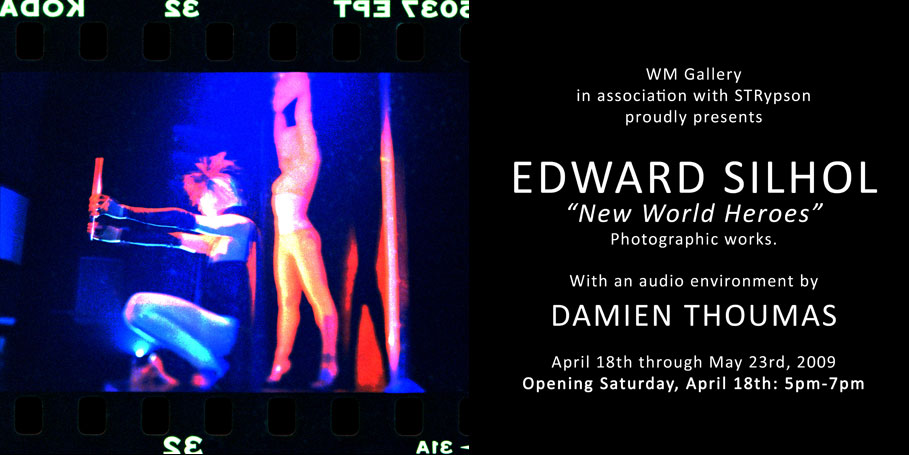 Gallery WM is pleased to present new works by Paris-based photographer Edward Silhol. In the series New World Heroes, Silhol demonstrates his continuing interest in the beauty of the human form, universal characteristics, and finding the permanent in the ephemeral.

The photographs of Edward Silhol have a unique ability to simultaneously present various sets of binary opposites: silence and noise, stillness and motion, deep darkness and intense light. Taken during a series of performances in Paris, these works emanate the sensations of the events, and all their accompanying sights and sounds. There remains a timelessness to Silhol's photos, as he captures the core essence of the performers – the archetypal traits that transcend time and place.

Utilizing a traditional film camera and advanced developing techniques, Silhol becomes something of a painter in his darkroom. A deliberate grainy texture gives the effect of chiaroscuro, while images in high black-and-white contrast produce a reductivist take on the human form. Silhol also experiments with colour: neon hues are reminiscent of '80s rap, heat-sensitive cameras, and forensic blacklights all at once. This fauve palette coupled with the artist's traditional use of film and pictorialist inspirations, results in yet another dualism: the new and the old. Silhol's practice thus resonates with both the traditional and the contemporary, giving his pictures a timeless quality.

Gallery WM presenteert trots de nieuwe werken van de uit Parijs afkomstige jonge fotograaf Edward Silhol. In de serie New World Heroes, demonstreert Silhol zijn voortgaande interesse in de schoonheid van de menselijke vorm, universele karakteristieken, en het vinden van het permanente in het efemerische.

De foto's van Edward Silhol maken het mogelijk om tegelijkertijd verschillende sets van binaire tegenstellingen te presenteren: stilte en geluid, stilheid en beweging, diep donker en intens licht. Genomen tijdens een reeks performances in Parijs, emaneren deze werken de sensaties van deze optredens, en al hun bijbehorende bezienswaardigheden en geluiden. Er blijft een tijdloosheid in Silhol's foto's, zoals hij de centrale kern van de performers vastlegt – de archetypische kenmerken die tijd en plaats ontstijgen.

Gebruikmakend van een traditionele filmcamera en ontwikkeling van geavanceerde technieken, wordt Silhol iets van een schilder in zijn donkere kamer. Een doelbewuste korrelige textuur geeft het effect van een chiaroscuro, terwijl de beelden in hoge zwart-wit contrast een reductionistische kijk nemen op de menselijke vorm. Silhol experimenteert ook met kleur: neon tinten doen denken aan jaren '80 rap, hitte-gevoelige camera's en forensische blacklights allemaal tegelijk. Dit fauve palette, in combinatie met de kunstenaar's traditionele gebruik van film en pictorialistische inspiraties, resulteert in nog een tweedeling: het oude en het nieuwe. Silhol's praxis resoneert dus met zowel het traditionele als het hedendaagse; zijn foto's krijgen hierdoor een tijdloze kwaliteit.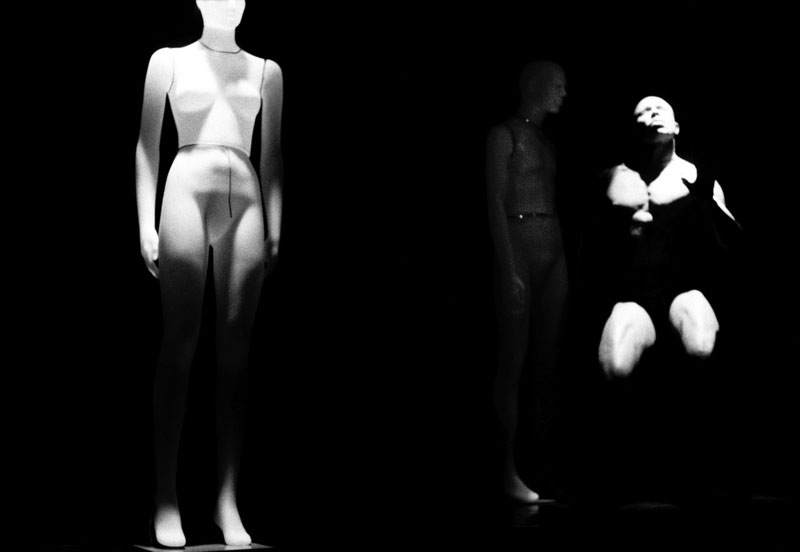 Bio
Edward Silhol is based in Paris. His works are represented in France by Galerie Seine 51. He has exhibited in group shows in France (Galerie Xavie Sequier, Zen Factory, Heart Gallery, 396 rue Saint Honoré), Belgium (Fernelmont Contemporary) and in Canada (University of Toronto). This is his first show with Gallery Wanda Michalak.
Bio
Edward Silhol is gevestigd in Parijs. Zijn werken zijn vertegenwoordigd in Frankrijk door Galerie Seine 51. Hij heeft geëxposeerd in groep in Frankrijk (Galerie Xavie Sequier, Zen Factory, Heart Gallery, 396 rue Saint Honore), België (Fernelmont Contemporary) en in Canada (Universiteit van Toronto). Dit is zijn eerste show met Gallery WM.
Tags: Edward Silhol