Paperworks.
May 16, 2016 5:00 pm
WM Gallery and Draw Me Nearer Art Collective  present:
PaperWorks
Draw Me Nearer Art Collective (Femi Dawkins, Fleur Ouwerkerk, Raquel van Haver*, Raul Balai) introduce: Toshiko Takeuchi
Opening: Saturday May 21st 17:00 – 18:00 hrs
May 21st through July 9th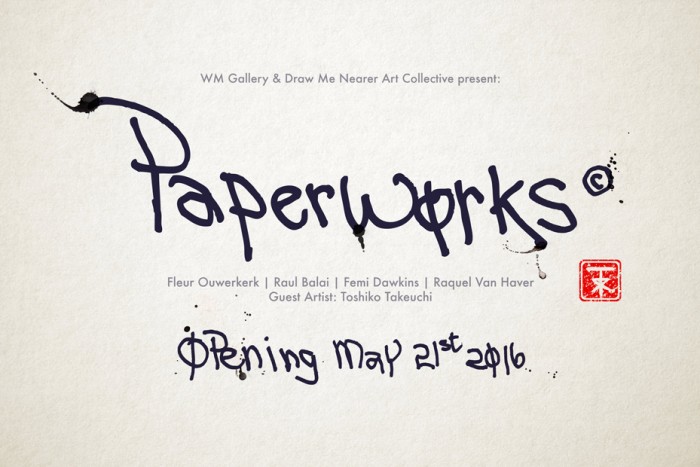 WM Gallery launches the art collective Draw Me Nearer with its first gallery show: PAPERWORKS. In its tactile tangibility, PAPERWORKS is playful, melancholic, and most of all, "drawing you nearer," a bold statement that says: paperworks are here to stay.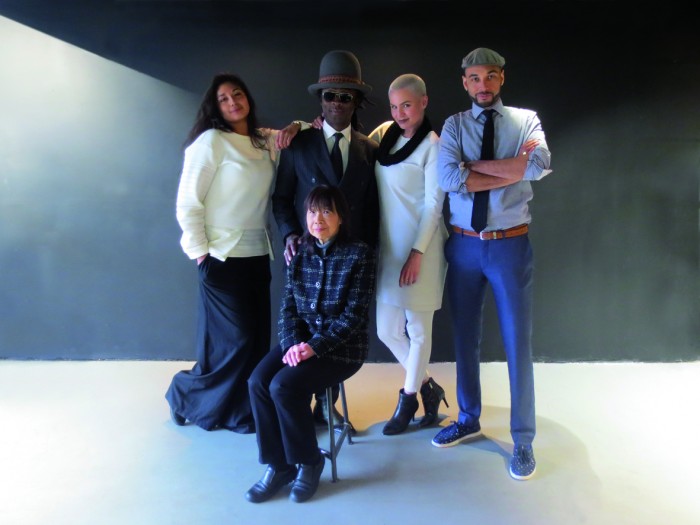 There is a kind of static quality to paper, whether pages in a book or pieces hanging on the wall; there's an aspect of silence. The Draw Me Nearer art collective, together with guest artist Toshiko Takeuchi, was asked to use something riotous as Leitmotiv; as in the notion of the carnival, the masquerade, the Carnivalesque. The collective was asked to find ways to bridge the gap between the stasis of paper, and the cacophony of carnival and other hysterical narratives that shape our lives in the past and present.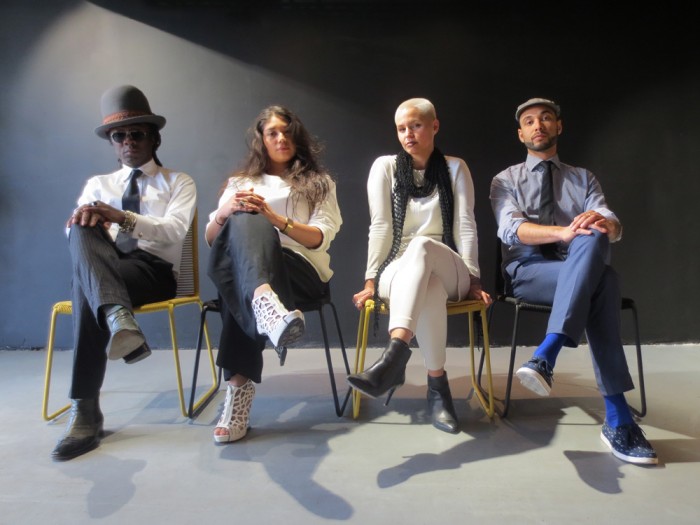 To the nay-sayers and harbingers of digitised futures who envision the demise of hard copies, books, paper, paintings and drawings… Draw Me Nearer screams that there is no other medium like paper to work on: to scratch, blot, shred, copy, paste and collage; to fold, cut, mangle and tear; to papier-mâché limbs, and origami birds, flowers and things, whole cities even; to draw in ink or charcoal the burden of beauty and the space of futures lost and found.. Cowboys and Indians, carnival and masquerades, monsters and afro-galactic beings, portraits of our noble "selfies" and our noble "selfie" friends; to make paperworks of value… Like souvenirs or mementos, PAPERWORKS are collectibles; visual documents of our every day journey.
The artists and their works by Pete Purnell
*Raquel van Haver's production of her series was kindly made possible by the Mondriaan Fund

Tags: Femi Dawkins, Fleur Ouwerkerk, Raquel van Haver, Raul Balai, Toshiko Takeuchi