Raul Balai & Femi Dawkins "The Library of Light" 22.02 – 12.04.2014
February 2, 2014 2:05 pm
Blaton & Rypson, Anthropologists in Art, are proud to present:
The Library of Light
By
Raul Balai & Femi Dawkins
In collaboration with Catherine Henegan
February 22nd through April 12th 2014
Opening: Saturday, February 22nd,17:00-19:00

"A people without the knowledge of their past history, origin and culture is like a tree without roots." Marcus Garvey
History has taken a back seat. We deem history as a given; as that which has happened and we have to wade through the drudgery of the classroom of our adolescence. But whose story is (his)story in actual fact? It used to be that history was that which was written by the winners; the powers that be. Those that had the means to mention or silence the past, the powers that have given us what we now call the dominant historical narrative.
We live in different times and spaces now. This world of ours… Filled to the brim with iPhones and iPads, YouTube and Wikipedia, sound bytes and blurbs and 3-minute concentration-spans… and getting fuller even still.
In this era of unlimited access to information, how is it that we still tap to the dance of a dominant narrative? Is it the omnipresence of information that is overwhelming? Or is it simple complacency?
Be that as it may, there is a surplus of books. There is a surplus of knowledge. The Library of Light is about wading through this quagmire of information, selecting and foregrounding fascinating personalities and events which are not common knowledge.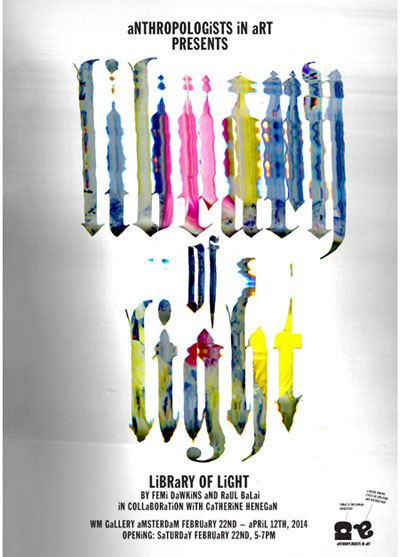 Invite by: Lesley Moore
The Library of Light acknowledges some of the many important contributions that have been omitted and overlooked. This is a celebration of the richness of our common history. Writers, intellectuals, feminists, athletes, philosophers and inventors who have made tremendous contributions to our human history. Examples include, inter alia; Anton de Kom (writer, activist, poet and resistance fighter in WWII), Aimeé Ceésaire (founder of the Pan-African movement) and Garret Morgan (inventor of the modern traffic light) amongst many others. In this way Balai & Dawkins aim to shine a light on relatively unknown persons who contributed greatly to society.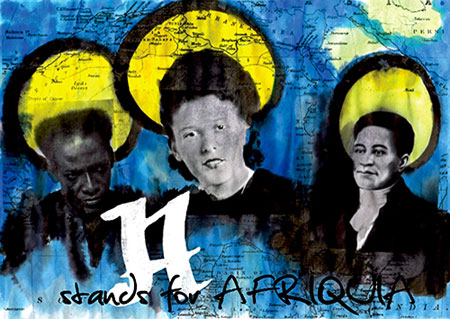 "Balai & Dawkins – from the series: Panalphabet"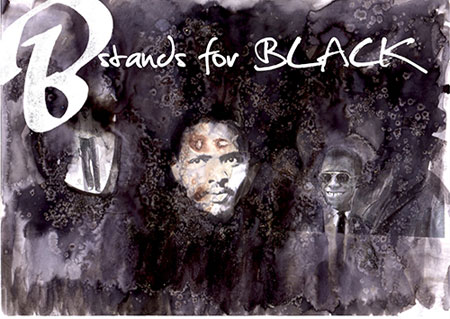 "Balai & Dawkins – from the series: Panalphabet"

About the artists:
Raul Balai (aka El Bastardo), 1980, is a visual artist living and working in Amsterdam. Recently his work has been focussing on his multiethnic heritage. He is constantly refining his own visual and conceptual vocabulary that emerges through the points of intersection between his work fields of contemporary art, illustration and graphic design. The last couple of years his work has been shown at MUHKA (Antwerp, Belgium), Dak'Art OFF (Dakar, Senegal), Galleri Image (Aarhus, Denmark) and Amsterdam Musem (Amsterdam, the Netherlands).Femi Dawkins aka, Jimmy Rage is a Jamaican born, Amsterdam based multidisciplinary artist, whose work focuses on fractured narratives, autobiographical tales that cross borders, and the ways in which diasporal identity is articulated and narrated.
Since the show "Zwart van Roet" in 2011 Balai and Dawkins have been working together on various projects, as curators and artists. Their latest project, The Library of Light in collaboration with Catherine Henegan, is presented AiArt at the WM Gallery. The first edition was presented as a site-specific installation at Kunst in Noord in 2013, focusing on the black pages of the Dutch Golden Age.

The Library of Light attempts to look at history; not at what historyis, but how history works.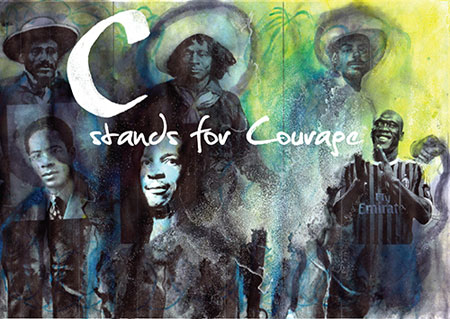 "Balai & Dawkins – from the series: Panalphabet"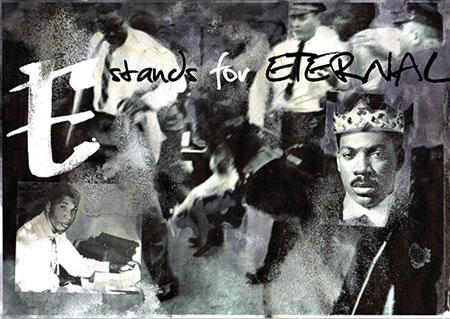 "Balai & Dawkins – from the series: Panalphabet"

Tags: Femi Dawkins, Raul Balai