SELFIES/SELF-PORTRAITS. WTF! © Jaap Bijsterbosch
January 1, 2017 5:44 pm
From Saturday, February 11th 2017, through Saturday March 18th, photographer Jaap Bijsterbosch will exhibit at Gallery WM  in Amsterdam. The show includes a wide selection from some 500 selfies / self-portraits shot during the past 8 years.
The self-portraits show great diversity. Yet there is one constant: the representation of the photographer, by the photographer himself. The image is shaped in the play of various photographic elements, such as light and shadow, timing, colour and / or monochrome. This play raises the suggestion of character representation, an emotion, a personality. In the photos, the photographer is his own actor.
Bijsterbosch created his first self-portrait of this series on August 17th, 2008. He felt the need to give images back to the world, after so many years of him having stolen images from the surrounding world.
Jaap Bijsterbosch (Groningen 1951) is a self-taught photographer. He specialises in landscape photography and documentary photography. Aside from his autonomous work, Bijsterbosch teaches photography (Amsterdam Centre of Photography (ACF), the Photo-academy, Stichting Buitenkunst). Over the years he has exhibited and published at home and abroad. He has obtained several awards at international competitions. He is an active member of the GKf (Gebonden Kunsten fotografen) platform within the professional association Dupho.
The opening will take place on Saturday, February 11th, 2017 from 17:00 to 19:00 hours in the physical presence of the photographer. Moreover, Jaap will have celebrated his 66th birthday on February 7th. An additional reason to come to the opening.
———- Nederlands ———-
Van zaterdag 11 februari 2017 tot en met zaterdag 18 maart exposeert fotograaf Jaap Bijsterbosch bij Gallery WM te Amsterdam. Hij toont een ruime selectie uit bijna 500 selfies/zelfportretten.
De zelfportretten vertonen een grote diversiteit. Er is één constante: de weergave van de fotograaf door de fotograaf zelf. Het beeld krijgt zijn vorm in een spel van fotografische elementen als licht en schaduw, timing, kleur of monochroom. Dit spel roept de suggestie van een karakterweergave, van een emotie, van een persoonlijkheid op. In de foto's is de fotograaf zijn eigen acteur.
Zijn eerste zelfportret uit deze reeks maakte Bijsterbosch op 17 augustus 2008. Hij had de behoefte de wereld beelden terug te geven, na zoveel jaren beelden uit de hem omringende wereld te hebben ontvreemd.
Jaap Bijsterbosch (Groningen 1951) is fotografisch autodidact. Hij is gespecialiseerd in landschapsfotografie en documentairefotografie. Daarnaast is hij docent fotografie (ACF, Foto-academie, Stichting Buitenkunst). In de loop der jaren heeft hij geëxposeerd en gepubliceerd in binnen- en buitenland. Hij verkreeg diverse awards bij internationale competities. Hij is actief lid van het GKf-platform binnen de beroepsvereniging Dupho.
De opening vindt plaats op zaterdag 11 februari 2017 van 17.00-19.00 uur in lijfelijke aanwezigheid van de fotograaf. Jaap heeft overigens dan op 7 februari zijn 66e verjaardag gevierd. Een extra reden dus om naar de opening te komen.
******************************
Het Parool 9 februari 2017
Selfies/Selfportraits WTF!
"What the fuck? Hoe zit dat precies met dat oog? Het lijkt te zijn neergekwakt in een landschap van plooien en ondefinieerbare stukken huid. Van wie is dat oog? En wat doet het daar? Beetje spooky.
De foto maakt deel uit van de expositie Selfies/Self-portraits WTF! die in Gallery WM is te zien. Het zijn beelden van de fotografische autodidact Jaap Bijsterbosch (1951). Hij is gespecialiseerd in landschap- en documentaire-fotografie, maar begon vanaf 17 augustus 2008 zelf-portretten te schieten. Om de wereld beelden terug te geven nadat hij de wereld zo lang beelden had ontfutseld.
Uit de aankondiging: 'De zelfportretten vertonen een grote diversiteit. Er is een constante: de weergave van de fotograaf door de fotograaf zelf. Het beeld krijgt zijn vorm in een spel van fotografische elementen als licht en schaduw, timing, kleur en monochroom. Dit spel roept de suggestie van een karakterweergave, van een emotie, van een persoonlijkheid op. In de foto's is de fotograaf zijn eigen acteur.'
Indringend, maar hopelijk blijft dat oog weg uit dromen."
Maarten Mol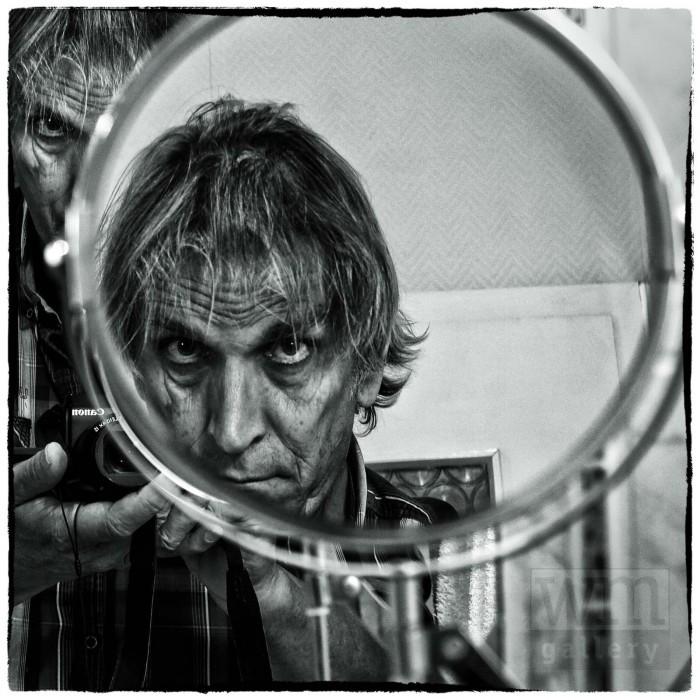 Tags: Jaap Bijsterbosch