"If You Go Into The Woods Today Be Prepared For a Big Surprise" Group Exhibition: Jaap Bijsterbosch, Frederieke Jochems, Wanda Michalak, Mayumi Nakazaki, Johannes de Boom 14.06 – 12.07.2003
June 14, 2003 9:47 pm


Foto Gallery WM presents from June 14 to July 12, 2003 the multimedia exhibitionArtists with different backgrounds and active in various disciplines were inspired by the forest. The mystery and the tales are present, as well as unexpected humor and erotic.

Opening 14.06 van 17:00 tot 19:00
met een a capella optreden van Johannes de Boom ("The Teddybears' Picnic")
en de aanwezigheid van Lyske-Gais de Bildt de "Levende-Boom"


Johannes de Boom, photo W.Michalak

Lyske-Gais de Bildt "The Living Tree"
Johannes de Boom
(& The Shavers)
(NL-vocal) A special interpretation of the song "The Teddybears' Picnic".
Jaap Bijsterbosch
(NL-photography) Pictures of the forest and the mysterious traces left behind by the creatures which populated them.
Frederieke Jochems
(NL-photography) Unexpected observations in the Lage Vuursche woods.
Wanda Michalak 
(Polen – photography) Personal erotic pictures from the worldwide forest.
Mayumi Nakazaki
(Japan-video) Videoclip with Johannes de Boom performing the song "The Teddybears Picnic".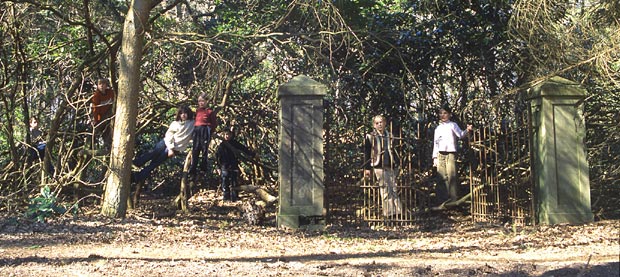 Frederieke Jochems "Kids in woods"

Wanda Michalak "If You Go Into The Woods"

Jaap Bijsterbosch "0212212"

Frederieke Jochems "Kids in woods"
IF YOU GO INTO THE WOODS TODAY
LISTING PHOTOS EXPOSED WITH PRICES
FREDERIEKE JOCHEMS
1
Phallus Exit (window)
duratrans photo 90 x 70cm on perspex light beam decoration frame
not for sale
2
If You Go Into The Woods Today Be Prepared For A big Surprise (Kids In Woods)
color foto 120 x 140cm
Eur 950,-
WANDA MICHALAK
3-12
Woods (serie, nr 1 t/m 10)
each black & white / fiber base (bariet)
40x50cm; incl. frame and passe-partout
edition of 5
Eur 300,-
13
If You Go Into The Woods
black&white / fiber base (bariet)
50x60cm; with passe-partout without frame
edition of 5
Eur 375,-
14
World Watching
black & white100x77cm
on aluminium plate
edition of 1
Eur 700,-
Johannes de Boom (exit)
black & white / fiber base (bariet)
50x60cm; with passe-partout without frame
edition of 5
Eur 300,-
JAAP BIJSTERBOSCH 
The photos are printed in an edition of 5. The works are numbered and signed.
Dimension photos 17,5 X 18,5 cm. Technic: fiber base paper (bariet).
Frame 30 X 40 cm
15
0330218
including passe-partout and frame
Eur 195, – 
16
0302036
including passe-partout and frame
Eur 195, – 
17
03010217
including passe-partout and frame
Eur 195, – 
18
030204
including passe-partout and frame
Eur 195, – 
19

0212212

including passe-partout and frame
Eur 195, – 
20
0302043
including passe-partout and frame
Eur 195, – 
21
0301018
including passe-partout and frame
Eur 195, – 
Complete serie of 7: Eur 1200.- 

All prices include 6% VAT.

Titels indicated in red are illustrated on this webpage

Tags: Frederieke Jochems, Jaap Bijsterbosch, Johannes de Boom, Like-Gais de Bildt, Mayumi Nagasaki, Wanda Michalak